My friend Eric called me and asked if we can do lunch/dinner sometimes next week.
He said he wanted to get into affiliate marketing and he was wondering if i can teach him internet marketing. I said sure… and he told me "damn, my company just hired a seo company. Wish I would've known before!"
That got me thinking… hmmm, why dont I post on my facebook and let people know that I run a seo & web design company so next time if their boss or friend ever needed a website they can refer them to me.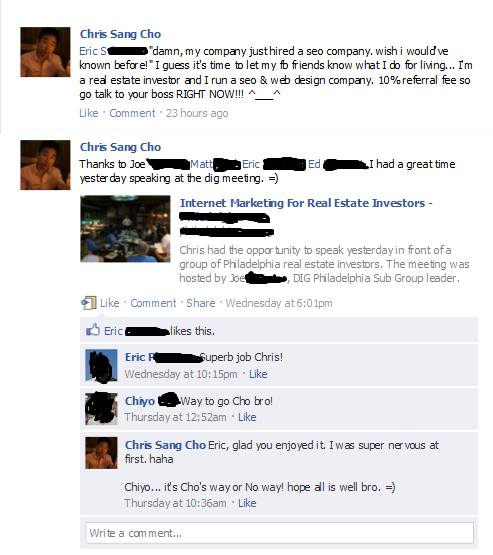 No one replied to me… so i said whatever, at least people know what I do for living.
Then a lil less than 24 hours I had 3 people contact me.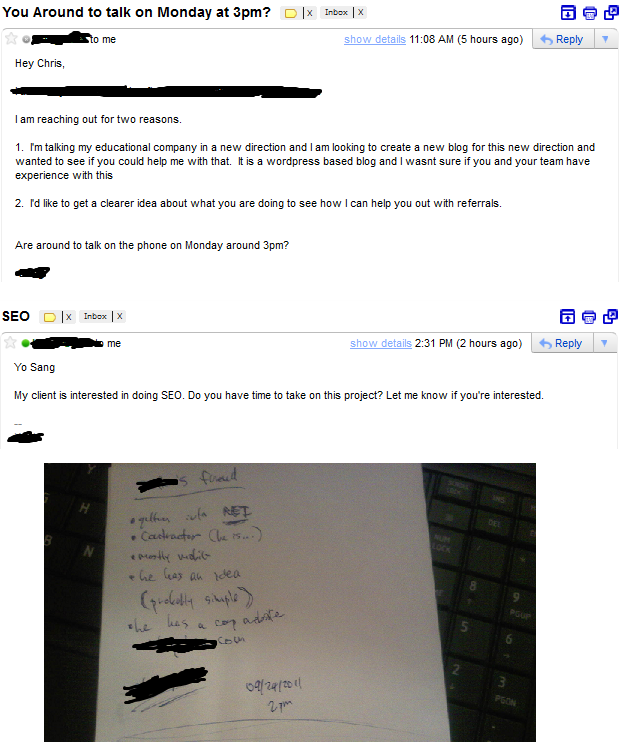 These are not deals but leads. I'm not even sure if I can take on all 3 since my team are already involved in 3 huge projects.
One of em is my mentor who wanted to work on his new blog. Another one is my friend who works as a web designer at one of the biggest internet marketing firm. And the last one was from a real estate friend who told me that his friend will be calling me next week for a website.
Anyways, I thought I should share with you guys so you guys can do the same.
Tip: couple days before, I posted a picture of me speaking in front of a group of real estate investors. It was to add social value in front of my fb friends. (maybe you can add your recent customer's website and say, "hey make sure to check them out. Not because I did their website but because they have an incredible ________.
"
Btw, my dream is to be the next Robert Kiyosaki. That's why I'm on the forum trying my best to help. Also the same reason why i got myself a speaking gig and even did my first wso. Everything is a practice to becoming the best business consultant in the world. And by the time I launch my book I want to have 100 real testimonials from 100 real businesses. That's the whole reason I'm doing offline marketing. So help me help you.
Comments