Here's a testimonial from Jose.
Jose lives an hour away from me so I drove up and we we're hanging out for close to 6 HOURS talking about offline marketing. hahahaha
He's an awesome web designer. I highly recommend him! If you guys need a website make sure to check his website out at http://www.jvinteractive.com/
————————————————
Other than that… Here's how my day went…
I didn't get to really "work" today because I had so much fun hanging out with Jose but I still manged to close a deal or two. I really hate writing but I decided to post a quick blog post for you guys to share my day and Jose's testimonial.
11:00am: Woke up late (skipped working out)
11:15am: received a message saying "i love your video email you sent. you remind me when i was younger. call me when you get this!"
11:30am: slacked off and decided to grub while watching some Korean comedy show
12:15pm: finally decided to call back the guy and he said he has 4 websites he wants to hand it to me but will start with just one site for now. (he said he'll give me consultant fee but I said it's fine)
1:00pm: talked to the plumber guy and decided to move on with $750 up front and $500/monthly
1:15pm: called jose and told him I can't make it at 1:30 because I had to close a deal but if we can meet at 2:30
2:30pm: hung out with jose till 8pm. haha crazy!!! we had sucha good time though and it was well worth the hour drive.
9:00pm: got home and had dinner and watched another Korean comedy. haha I love watching Korean shows when I'm eating.
11:00pm: here I am uploading the testimonial and putting up a blog post before hitting the bed.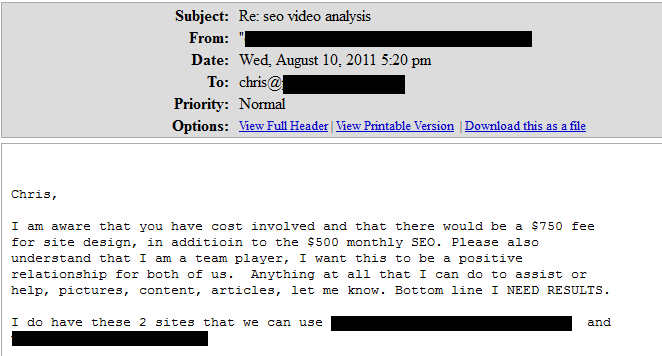 Anyways, leave me some comments if you have any questions.
Thanks and keep on keeping on guys!!! =)
Comments